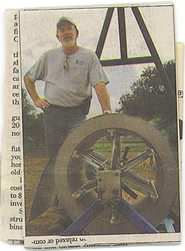 Our Story
In 1994, after many years in the construction industry, owner Mike Seymour realized that not only is metal the future of roofing - there weren't any quality roofing installers who specialized in metal roofing in the Rio Grande Valley.
Metal roofing, if installed correctly, can last a lifetime.
Metal roofing, if installed improperly - or if cheap, pre-fabricated materials are used - will become a nightmare.
With a small loan and a lot of hard work, Mike set out to create a company focused on one simple idea: Quality.
He designed Frontera Metal Roofing from the ground up with that in mind: to control the quality o

f our metal roofs from start to finish.
Why?
Because it matters.
It matters to us, and it should matter to you.
We at Frontera Metal Roofing strive to keep that at the heart of everything we do. We fabricate and install all the materials and components of our metal roofs. We don't buy pre-fabricated materials. We don't buy cheap, imported metal. We only use non-exposed fastener roofing systems. We only use UV-Stable Kynar paint coatings.
No two homes are the same, and every home comes with its own unique design challenges.
Our control over quality allows us to create a custom metal roofing system unique to each home that strikes a balance between function and style.
Not only do we want our roofs to provide the maximum protection possible (Texas Windstorm Certified & Class 4 Hail Rated) - they have to look good too!
Not just for a few years.
For decades.
Frontera Metal Roofing has become the premier metal roofing company in the Rio Grande Valley, and for nearly 30 years we have been guided by that one defining principle: Quality.
To this day, Frontera Metal Roofing is still family owned and operated. Mike's son's Kyle and Todd work side by side with him and a team of dedicated installers to provide quality metal roofs for the Rio Grande Valley for generations to come.
Our Employees
When it comes to custom metal roofing, our employees are the most trained professionals in the valley. They take pride in their work, and strive to produce the best quality roof they possibly can. They do not cut corners to save time or money. They are trained and employed based on the sole fact that they will provide you with the best roofing experience possible.
We carry a comprehensive general liability policy to ensure that our homeowners and employees are protected.